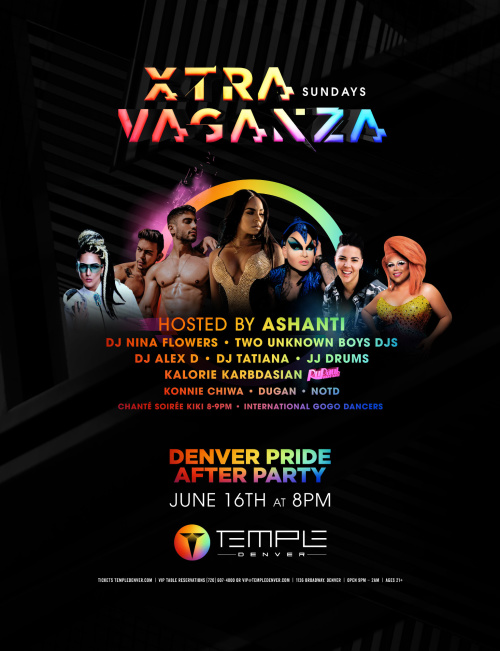 Sunday, Jun 16, 2019 @ 7:00pm
Denver PrideFest After Party
Event Description
Temple Nightclub Presents the Denver PrideFest After Party celebrating the LGBTQ+ community.
Our Full lineup is here! Featuring celebrity host Ashanti!
Sounds by DJ Nina Flowers + many more!
Body Painting, Ice luge shots, drink specials and Even more exciting details to come soon!
About Ashanti:
With hitmaker Irv Gotti at the helm, Ashanti blasted into the urban music scene in 2002, topping the charts with multiple singles at once. She quickly became a sensation, gracing the covers of magazines and dominating urban radio. Ashanti built her reputation with duets, where she would complement an already popular rapper -- Ja Rule ("Always on Time"), Fat Joe ("What's Luv?"), the Notorious B.I.G. ("Unfoolish") -- contrasting the tough-guy male perspective with her own. It didn't take the young vocalist long to make a name for herself though: her debut album topped the Billboard album chart just as her debut solo single, "Foolish," was topping the Hot 100 chart. Her presence was inescapable.
Ashanti's overnight jump to superstardom followed that of Ja Rule, a similar urban music sensation helmed by Gotti. The New York producer took notice of Ashanti initially because of her beauty, dancing, and acting. She trained as a dancer at the Bernice Johnson Cultural Arts Center, learning a number of dance styles. She danced most notably in Disney's Polly, which starred Phylicia Rashad, and also appeared in a number of big-name music videos, in addition to other dance work. As an actress, she made a name for herself with roles in Spike Lee's Malcolm X and Who's da Man before that. The multi-talented vocalist was causing quite a stir, and Gotti did what he could to bring her into his Murder Inc fold. After showcasing her swooning voice on Big Pun's "How We Roll" and the Fast and Furious soundtrack -- both in 2001 -- Gotti put Ashanti to work on her debut album, which he produced.
Success came quickly. A duet with Ja Rule, "Always on Time," hit number one on Billboard's Hot 100 chart in early 2002 just as a duet with Fat Joe, "What's Luv?," was creeping toward the same number one position. These two airplay-heavy singles set the stage perfectly for Ashanti's self-titled debut release. The album's lead single, "Foolish," raced up the Hot 100 chart, entering the Top Ten in March alongside "Always on Time" and "What's Luv?," giving her three Top Ten songs in the same week, including the number one and two positions -- a quite spectacular feat. And then Ashanti's album debuted at number one on the album chart, selling an astounding 500,000-plus copies in its first week. With all this chart-topping, Ashanti set some sales records and her success continued. Gotti readied a remix of "Foolish," titled "Unfoolish," that featured the Notorious B.I.G. and again overtook urban radio, where no artist was more omnipresent throughout 2002 than Ashanti.
She returned the following year with Chapter II, which likewise topped the Billboard album chart on the heels of its hot lead single, "Rock wit U (Awww Baby)." The album's success was somewhat eclipsed, however, by all the negative drama surrounding the Murder Inc camp at the time (i.e., an FBI investigation and a G-Unit feud). A Christmas album followed late that year. Concrete Rose appeared in December 2004 and debuted at number seven on the Billboard 200. Though she remained with The Inc for 2008's The Declaration, she sought out a number of songwriters and producers outside the label's in-house team, including Akon, Babyface, and Mario Winans. Highlighted by "The Way That I Love You" and "Good Good," it debuted at number six. Ashanti and the label subsequently parted ways. During the summer of 2009, Ashanti starred as Dorothy in a New York City stage production of The Wiz. Additional acting gigs and television appearances followed, including a role in the series Army Wives. In March 2014, over two years after its intended lead single ("The Woman You Love") was released, Ashanti released Braveheart, her first album for the eOne label. ~ Jason Birchmeier, Rovi

About Nina Flowers:
Jorge Flores, aka NINA FLOWERS, was born in the city of Bayamon Puerto Rico in 1974.He began his career in music in 1989, where he became a resident Dj at one of the most prestigious clubs in the Caribbean, Krash Klub Kafe. As a DJ/Producer he brings an infectious understanding of how to bring music alive on the dance floor.As a recording artist he has collaborated with some of the most talented Dj's/Producers/Remixers of this new Era in music.Today Nina Flowers holds Dj residencies in several cities in the US and, and he continues to captivate fans around the globe with his powerfully engaging connection to the audiences, and his progressive sound filled with tribal beats."The lights, the music, the stage, and the crowd – putting it all together – magic in the making" – Nina Flowers

About Tatiana:
For those not yet acquainted, allow me to introduce DJ Tatiana. Official Billboard music Dj and chart panelist. She was born in Madrid, Spain and has been making people dance around the globe since 1999. Fueled by her passion for music, this talented Denver based DJ has been rocking dance floors across the US and abroad with her beautiful smile and her energetic vibe. Regularly featured in magazines and newspapers, throughout her music career, Tatiana has also earned several awards and community recognitions. An delightful peoples' person and a very talented musician, Dj Tatiana has headlined at leading club venues around the world such as The Church, Pacha, Nikki Beach and The Week to name a few. She has also performed worldwide recognized parties and events like AquaGirl (Miami), Shedonism (Las Vegas), BAD First Fridays (Denver), EuroPride, Sweet Caribbean cruise and many more. Her music does not know any borders, her connection to people, wicked skills, track selection and an unmatchable energy have placed Dj Tatiana into a class of her own. From her performances in New York city to the sandy beaches of Ibiza, she is a one of a kind performer. Tatiana incorporates many styles into her sound, from Latin beats to popular top 40s to tribal house, with musical favorites from all genres coming together in her sets. Her passion and energy have created demand making her one of the most sought after new DJ's in the game. To know Tatiana is to love her. A strong woman who offers the world far more than her good looks and taste, Tatiana possesses heart and character. These qualities shine through her music.

Reserve your VIP Experience by calling (720) 607-4000 or visiting templedenver.com
Sponsored by 95.7 The Party and iHeart Radio, and by Kettle One Botanicals and Smirnoff!

Temple is a 21+ nightclub experience.