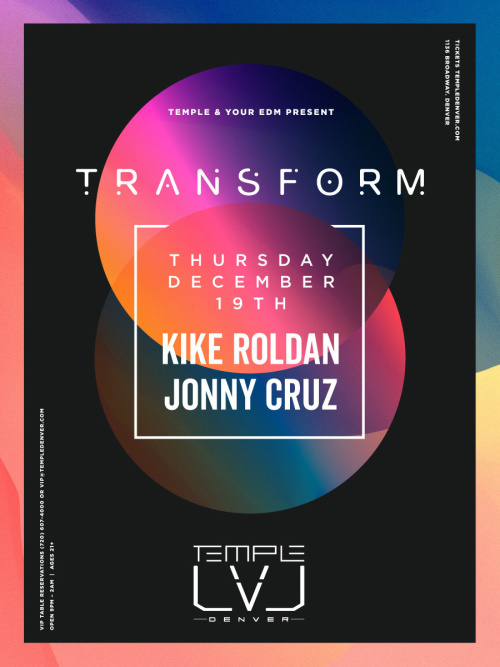 Thursday, Dec 19, 2019 @ 10:00pm
Kike Roldan and Jonny Cruz
Event Description
Temple presents Kike Roldan and Jonny Cruz
About Kike Roldan ( Speaker box Music ):
DJ Residency and founder at SPEAKER BOX MUSIC //// Music out on: aLoLa Records, Monique Musique and Observe Records. DJ at: Bardot, Treehouse, Space Club Miami, CASTAWAY and ON DECK.
Till this day Kike and his partner from Speaker Box Music managed to play with other recognized and respected names in the industry like Hernan Cattaneo, Nick Warren, Marco Carola, Oxia, Steve Lawler, Fairmont, Andrew Grant, Mano Le Tough, Guido Schenider, Francesca Lombardo, Christian Loffler, among many other great artist and Djs.
Currently Kike Roldan is one of the most in demand names in Miami (USA),so far.
https://soundcloud.com/kikeroldan

About Jonny Cruz:
Jonny Cruz, a native to Puerto Rico and the love of electronic music. A multi versatile DJ and producer that is constantly exploring and pushing the boundaries of his craft. A man of many aliases with a wide variety of releases in many genres as well.
https://soundcloud.com/sxmfestival/spiri-tusanto-live-treehouse-feb-02-2019?
Transform Thursdays is a weekly event curated by Temple Nightclub and Your EDM featuring up and coming talent in the dance community. Each week, this party will transform the usual club experience into a laid back, Denver community hangout. Expect fun interactive themes, fresh local talent and the hottest up and coming names in the electronic spectrum - all genres welcome.
Weekly drink specials