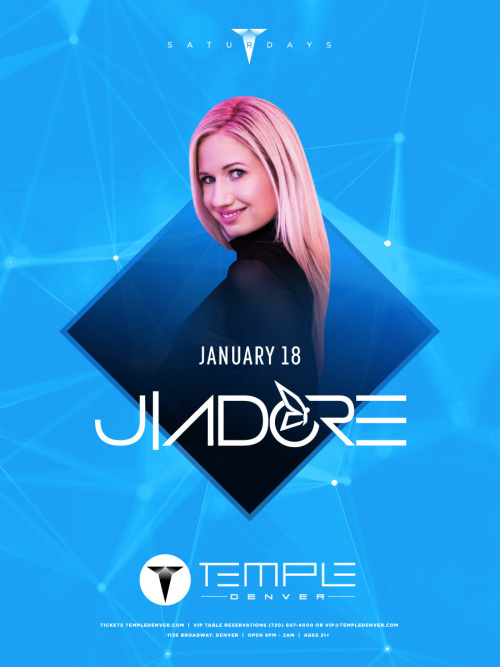 Saturday, Jan 18, 2020 @ 9:00pm
J|Adore
Event Description
Temple Presents J|Adore
"J'Adore." To the French, it means to adore or to love something. J|Adore inspires the concept of adoring your life through a musical soundtrack. As a musician, it's her pursuit to get people to come together and dance. Undeniably captivating, J|Adore's electrifying stage presence and ability to connect with the crowd in front of her leaves her fans with an energetic experience.

Whether it's her own work or a track from another artist, J|Adore is drawn to a futuristic, unexpected dark and atmospheric sound style that speaks across genres. Busy crafting her own unique sound, J|Adore continues to shake up the social scene holding down the hottest residencies and emerging from Denver to hot spots around the globe. Whether she's focusing in the studio or adrenalizing a dancefloor, J|Adore is known for flawlessly creating a strong experiential vibe that delivers for the occasion.
Temple Nightclub is a venue for artists, by artists, offering a nightlife experience that is unrivaled in the Mile High region. Temple Denver features awe-inspiring, fully immersive state of the art lighting and visuals, to a thundering custom sound system, paired with world-class talent and theatrical production.
Temple is a 21+ nightclub experience.