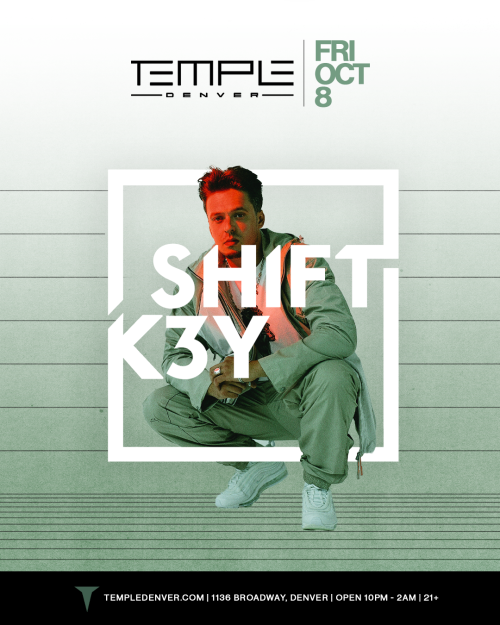 Friday, Oct 8, 2021 @ 10:00pm
Shift K3Y
Event Description
Shift K3Y at Temple Denver
Shift K3Y, songwriter, producer and fully equipped vocalist whose output cleverly fuses the evolving sounds of House and Garage with contemporary pop and R&B. By the age of 17 he'd made a name for himself with the EPs 'Step in the City (Bullet Train - 2011), 'Let You Down/Frozen' (Buygore - 2012) followed by 'Left & Right' (Bullet Train - 2012). He signed to Columbia Records in the U.K. in 2013 and his major-label debut was made in April 2014 with the modernized garage pop single "Touch reaching number three on the U.K. pop chart. In August 2015, following a pair of chart singles, Shift K3Y issued the genre spanning four-track EP 'Off the Record', with each one of its tracks given individual release. His first long player came from the combination of his two-part EP series NIT3 TALES 1 & 2 and the release of his debut full-length, NIT3 TALES dropped in 2016. 
Both a force on stage as a live performer and DJ and in the studio, Shift K3Y has continued to build a wealth of credits having worked alongside industry heavyweights, writing and producing singles for the likes of STORMZY, CRAIG DAVID, CLIQ, BUGSY MALONE and BECKY HILL, including No.1 singles for TINIE TEMPAH, ZARA LARSON and JESS GLYNNE. A recent signing to EMI post a successful run at Columbia Records from 2014-2019, this London residing Artist readies to release a string of next chapter singles, continuing His very unique, highly respected and always recognizable sound.
ABOUT TEMPLE
Temple Nightclub is a venue for artists, by artists, offering a nightlife experience that is unrivaled in the Mile High region. Temple Denver features awe-inspiring, fully immersive state-of-the-art lighting and visuals, to a thundering custom sound system, paired with world-class talent and theatrical production.
Temple is a 21+ nightclub experience
For VIP, email [email protected]