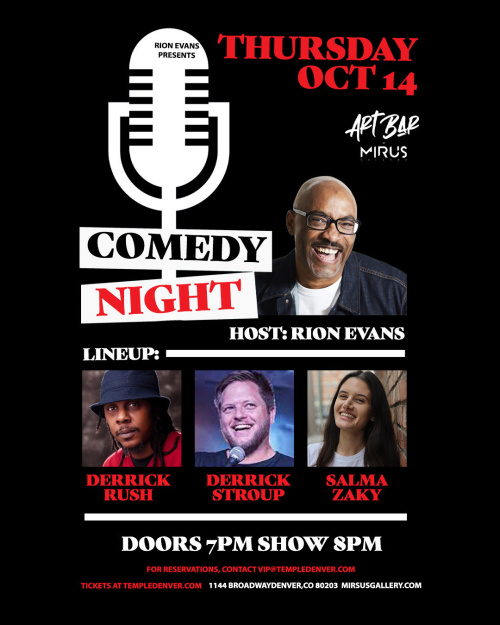 Thursday, Oct 14, 2021 @ 8:00pm
Comedy Night presented by Rion Evans
Event Description
Rion Evans presents Comedy Night at Mirus Art Bar
Come enjoy an evening of laughter with Denver comedian Rion Evans as your host!
$10 Cover / $200 VIP Table for up to 8 guests + 1 bottle of liquor included
Doors 7pm, Show 8pm
LINEUP:
Derrick Rush
Derrick Stroup
Salma Zaky
ABOUT:
Salma Zaky
Originally from the Bay Area, Salma Zaky moved to Los Angeles to attend college at UCLA, where she was lucky enough to perform alongside stellar comedians including Maria Bamford, Ali Wong, Nikki Glaser, and Nicole Byer. Salma has been featured in Boston's Women in Comedy Festival in 2017, SF Sketchfest in 2019, and Floodwater Comedy Festival and Aspen Laugh Festival in 2020. She now resides in Denver, Colorado for a better quality of life and air.
Derrick Rush
After retirement from the Navy in 2009, Derrick Rush moved to Denver, CO in pursuit of a new career: stand-up comedy. He's now a regular at the Denver Improv and Comedy Works, where he recently took third place (out of 168 comics) in the renowned New Faces Competition. Featured on the High Plains Comedy Festival and having worked with some of the most respected comics in the business (Dave Chappelle, Joey Diaz, Dana Gould...), The Westword called Derrick, "A comedian everyone should look out for." So keep your mother fucking eyes out for Derrick Rush.
Derrick Stroup
Alabama native and stand up Comedian Derrick Stroup is not your average slow talking Southerner. With the cadence of a pissed off auctioneer, he locks people in with his detailed stories and over the top energy. He started doing Comedy 8 years ago in Jacksonville, Alabama. Derrick's start in Comedy is far from the norm. He put himself up at the local bar he ran and would entertain the patrons for up to an hour with unpolished, from the hip Comedy. His angry rants and silly mishaps eventually gained local attention and his bi-monthly Comedy show was born. He did this for several years until he decided to chase his Comedy dream out West. Derrick moved to Denver, Colorado in 2015 and has never looked back. Since then he has become a regular at several clubs in the State and his unique brand of angry Southern Comedy is starting to gain him some national recognition as well. Recently he was the winner of the New Faces Competition at the world famous Comedy Works in downtown Denver-which has over 200 entries each year. Derrick tours the South regularly and has opened for Frank Caliendo, Ron White and Josh Blue to name a few. Derrick loves a Waffle House that's clean and cares about it's customers.