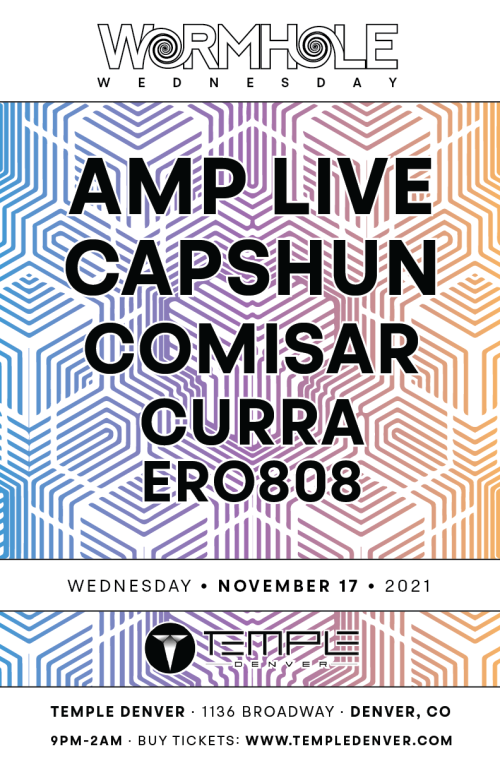 Wednesday, Nov 17, 2021 @ 9:00pm
Wormhole Wednesday
Event Description
Wormhole Wednesday Presents Amp Live, CAPSHUN, Comisar, Curra & Ero808
Temple Nightclub is thrilled to welcome the ever-popular Wormhole Wednesday brand to our venues with a monthly party in both San Francisco and Denver. Wormhole Wednesdays will feature only the best in bass heavy music, intelligent lighting, and psychedelic visuals.
Wormhole is a rift in the space time fabric where outcrops of bass music, psychedelic visual projections, custom stage builds, live art, and next level vendors. 
Originating as a small happy hour gathering at a beer garden near Lake Merritt in Oakland, Wormhole Wednesdays grew into a massive community of like minded individuals that wanted to see higher and higher production from every single event.
ABOUT TEMPLE
Temple Nightclub is a venue for artists, by artists, offering a nightlife experience that is unrivaled in the Mile High region. Temple Denver features awe-inspiring, fully immersive state-of-the-art lighting and visuals, to a thundering custom sound system, paired with world-class talent and theatrical production.
Temple is a 21+ nightclub experience.
For VIP, email [email protected]