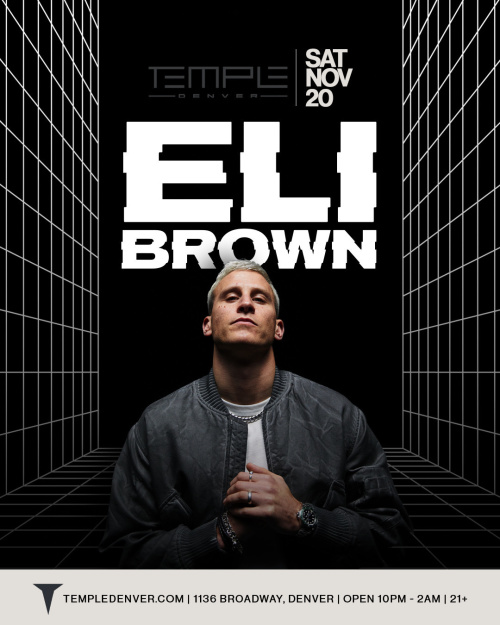 Saturday, Nov 20, 2021 @ 10:00pm
Eli Brown
Event Description
Temple Denver presents Eli Brown
An artist bringing a singular vision to the world of electronic music, Eli Brown has brought a visceral energy to club sonics ever since his emergence on the scene in 2016. Coming up in Bristol's famed dance community, home to pioneers of jungle, drum'n'bass, dubstep and more, Brown's production style captures the raw atmospherics of his homeland's icons and applies them to a blend of house, techno and full-bodied electronica, custom-built for cavernous warehouse spaces. This sound has helped him rise to prominence in a hotly-contested club scene, rapidly gaining support from the likes of Carl Cox, Adam Beyer, Calvin Harris, Alan Fitzpatrick, Solardo, Green Velvet and more.
Brown's introduction to music came at a pivotal time for the city from which he originates, when Bristol's dark, brooding signature electronic sound began to push to the forefront of the cultural consciousness. The uprising of high-octane breaks and bass within the city sparked inspiration in Eli Brown, pushing him to attend nights involved in the city's fertile jungle and drum'n'bass scenes from a young age. The community's passion for forward thinking sounds activated Brown even further; pushing him to purchase production hardware and to start the long and arduous process of teaching himself how to utilise it.
Brown's innovative approach to club sounds roots itself in the sinister; placing the listener in the darkest sonic recesses before throwing them onto the dancefloor at breakneck speed, pairing those foreboding textures with a pulsing, destructive rhythm. This unique methodology came almost instantly, with Brown sending the very first house track that he finished anonymously to frequent tour companion Skream. Under the new moniker of Eli Brown, the track impressed the Croydon selector enough to sign a whole EP to his Of Unsound Mind imprint -igniting Brown's foray into the house scene and leading to him locking himself away to work on 4/4 rhythms for six months. During this prolific time, Brown released music with the likes of Adam Beyer's Truesoul, Repopulate Mars, Defected, Alan Fitzpatrick's We Are The Brave and more.
ABOUT TEMPLE
Temple Nightclub is a venue for artists, by artists, offering a nightlife experience that is unrivaled in the Mile High region. Temple Denver features awe-inspiring, fully immersive state-of-the-art lighting and visuals, to a thundering custom sound system, paired with world-class talent and theatrical production.
Temple is a 21+ nightclub experience.
For VIP, email [email protected]