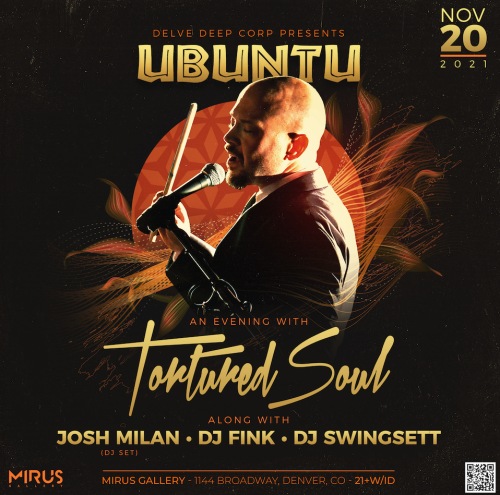 Saturday, Nov 20, 2021 @ 7:00pm
Delve Deep Corp Presents Ubuntu An Evening With Tortured Soul along with Josh Milan and Friends.
Event Description
Delve Deep Corp Presents
Ubuntu
An Evening With Tortured Soul and Josh Milan.
Tortured Soul
Tortured Soul Music
100% live modern, deep, soulful, house music freed from the DJ Booth. Influenced by the classic songcraft of Prince, Heatwave, and Kool & The Gang, Tortured Soul is a collective of incredible international musicians united under a groove-centered rhythm.
Frontman and songwriter, John-Christian Urich, leads the group while simultaneously drumming and singing with effortless mastery. Likened to "The Roots of House Music", Tortured Soul's sound is reminiscent of Neo-Soul groups like Jamiroquai or The Brand New Heavies, while also being influenced by the contemporary freshness of House purveyors like David Lee ZR and Louie Vega and Nu Disco artists like Soul Clap and Purple Disco Machine.
Josh Milan (DJ Set)
Honeycomb Music
Soul stirring, infectious, and sensual, while these three words may bring to mind separate images, for Josh Milan they capture the homogenous nature of his talents. A career spanning three decades as a vocalist, songwriter, producer and composer, Josh's ability to meld spirit and passion through song is a testament to his longevity and viability in an ever changing industry.
One third of the famed 80's and 90's Motown Records group, Blaze, Josh Milan has been a force in the music industry for well over 30 years. Multiple chart topping dance classics and remixes for such artists as Lisa Stansfield, Diana Ross, Babyface, El DeBarge and Jody Watley, Josh's contribution to the music landscape are canonized and respected. A multi-instrumentalist (guitar, bass, keys, drums, percussion), Josh's gospel roots can be felt in every pitch and rhythmic notation. A passion for songwriting, his lyrics either for self or others transmit messages of love, passion, peace, and positivity.
With roots in the church Josh's innate ability to convey emotion through music were honed at the tender age of 12. In a single instance where opportunity married divine design, Josh was left to fill in the gap for an organist who, when overcome by emotion abandoned his bench, leaving Josh to play like he'd never played before. It was then that not only did his peers take notice of his capabilities, but a spark was lit in him that, after some 30 years, has yet to be diminished.
While, Josh Milan's most noted works are of the house and dance music category, his repertoire spans the spectrum of musical genres. Much like his travels, this globetrotter incorporates various sounds into his music. These international influences have brought him into the studio with such artists as Grammy nominated South African trumpeter Hugh Masekela, Grammy award winning R&B, Pop and Jazz vocalist Patti Austin, world renowned musician/producer Louie Vega, Andy Narell, and Lisa Fischer to name a few.
An amalgamation of soul, Josh Milan's Sam Cooke-like voice, with a hint of Stevie Wonder but with a style all his own, has positioned him as an artist of major crossover appeal. Staying true to his roots, Josh Milan continues to pull upon his spiritual base to fortify his iconoclastic status in the annals of dance music and beyond.
Dj Fink
Decatv.tv/ DigiMix
Dj Swingsett
Delve Deep Corp/KGNU
21+W/ID
7pm-2am
Tickets On Sale September 15th.
Vip Bottle Service Available.
******Full Vacination Cards Required or Within 72 Hour Covid Test Required For Entry, No Exceptions******