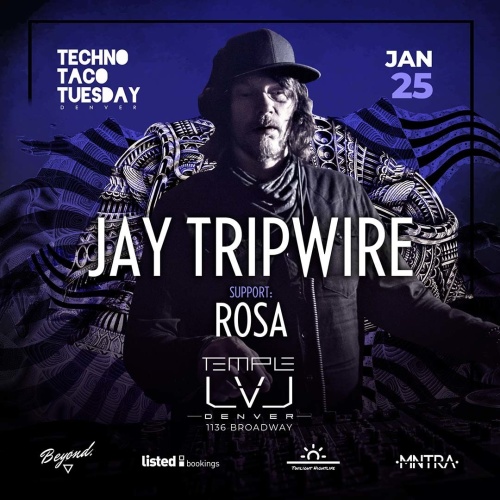 Tuesday, Jan 25, 2022 @ 9:00pm
Techno Taco Tuesday Denver: Jay Tripwire
Event Description
Techno Taco Tuesday Denver at Temple Denver's LVL featuring Jay Tripwire
Lineup: Jay Tripwire Always sitting slightly off-centre, Jay Tripwire is an artist that walks the line as industry staple and ever changing innovator. Foremost Jay Tripwire is a Dj and his craft goes back to when every party was vinyl only and there was no sync button, an ethos still to this day Jay adheres to. His finely crafted extended sets deviate from the norm and as a DJ he encompasses a very wide range of underground music, and decades of digging for music to which his ears, neck and back have taken a serious beating from shows in how he walks with a swagger. Jay prepares extensively for every set of gigs with his personally crafted re edits to match his signature style of long drawn out blends create a rich tapestry of audio, where its not easy to tell where one song starts and the other ends (unless your a fucking shazzam nerd). A sometimes resident at Mr. C's legendary SuperFreq parties and a regular contributor to the label, some of the notable Label parties have been at BPM festival, NYC for Resolute, Alec Baldwins 63rd birthday, and of course Fabric in London. Jay Has played many of the worlds top clubs, ones that are current, ones that only older people would know and many underground spots that didn't have a fancy name- just sweaty walls.
Support: Rosa
DENVER COVID VACCINE REQUIREMENTS
In accordance with the Denver county mandates, proof of vaccination is required for entry into Temple Denver events.
Physical cards or digital copies are accepted. We recommend using the MyColoradoApp, which is an official government-issued copy of your vaccine record.
Full refunds will be offered on any pre-purchased tickets, no questions asked.