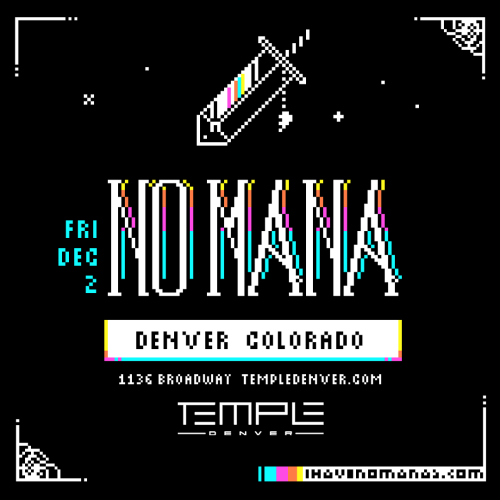 Friday, Dec 2, 2022 @ 10:00pm
No Mana
Event Description
No Mana at Temple Denver
Signed to deadmau5's mau5trap label, electro house producer No Mana built a name for himself on the back of his UP series of singles before releasing debut album Secret Level in February 2020.
Inheriting his grandad's love for techno and trance at a very young age, L.A,-based producer No Mana (born Jordan Orcaz) grew up surrounded by electronic influences, which, as is often the case, made him interested in producing. Debuting with a remix of Black Morphs & Elexem's "You & I," the young producer quickly caught the eye of electro heavyweight deadmau5, who promptly signed Orcaz to his mau5trap label. Maintaining his video game-inspired aesthetic, the producer made his label debut with the two-track "1UP" (2015), followed that year by sequels "2UP", "3UP", "4UP, "5UP", and singles "Tell Me" and "Claws." A varied set of offerings, the musician's early efforts danced through genres from trance to electro house, bound by a punchy, crisp sound reminiscent of mau5trap's founder. 
Continuing with the UP series, 2016 saw the release of another four volumes ("6UP" through "9UP") alongside the producer's debut EP, Game Over. A subsequent EP, Above the Blue, arrived the following year, bookended by the heavier anthems of "10UP" and "11UP". It was 2018 where the young producer kicked his output into overdrive; while keeping the UP' series going strong with volumes 12 and 13, the producer released two 30-plus-minute mini-albums, Assorted Repetitions and Melted Candy. After pushing through 2019 with "14UP" and a set of singles, Orcaz released his debut album, Secret Level, in February 2020. Retaining the banger-centric ethos of his career thus far, the project built primarily on the electro house aspects of his work, featuring collaborations with Chipzel, Voicians, Jantine, and EDDIE. ~ David Crone, Rovi
ABOUT TEMPLE
Temple Nightclub is a venue for artists, by artists, offering a nightlife experience that is unrivaled in the Mile High region. Temple Denver features awe-inspiring, fully immersive state-of-the-art lighting and visuals, to a thundering custom sound system, paired with world-class talent and theatrical production.
Temple is a 21+ nightclub experience. For VIP, email [email protected]