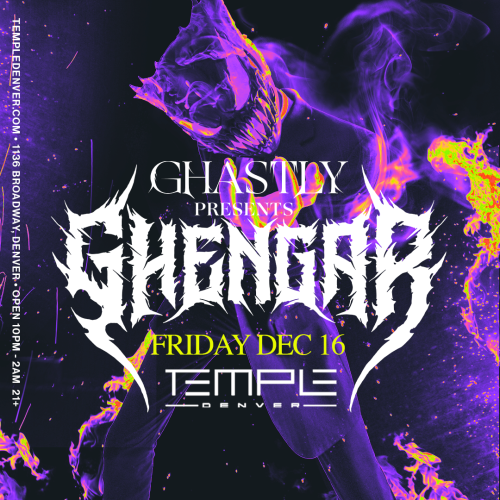 Friday, Dec 16, 2022 @ 10:00pm
Ghastly Presents: Ghengar
Event Description
Ghastly Presents: Ghengar at Temple Denver
Born David Lee Crow in Phoenix, Arizona, Ghastly's humble beginnings took place on his family's dairy farm built over 100 years ago. David knew from early on that music was his life's calling, recording his own music by the age of 12. As a teenager, he formed a death metal/grindcore band called The Irish Front, where he performed as its vocalist. Their success allowed him to tour the country, and he became hooked on both the energy of the crowd and the thrill of performing.  
Ultimately, the members of The Irish Front decided to go different directions, prompting David to take the plunge as a solo artist. He bought a van, saved up $1000, and moved to Los Angeles to pursue his music career with no connections, but a stubborn dream. After years of trying and failing, David found his footing as a solo artist under the moniker "Ghastly" - the rest is history. Ghastly's musical style has continuously evolved, resulting in a discography that spans a multitude of genres. His ability to produce tracks that range from tugging at heart strings, to breaking vertebral columns, is unparalleled. In 2022, David created the evolution of Ghastly, the amalgamation of which became a secondary project known as "GHENGAR". GHENGAR sets are where David is able to completely cut loose and perform his most aggressive tunes, inspired by his love for metal music; the creation of GHENGAR also gives Ghastly the freedom to focus on exploring the world of groovy house beats and melodic bass.
ABOUT TEMPLE
Temple Nightclub is a venue for artists, by artists, offering a nightlife experience that is unrivaled in the Mile High region. Temple Denver features awe-inspiring, fully immersive state-of-the-art lighting and visuals, to a thundering custom sound system, paired with world-class talent and theatrical production.
Temple is a 21+ nightclub experience. For VIP, email [email protected]