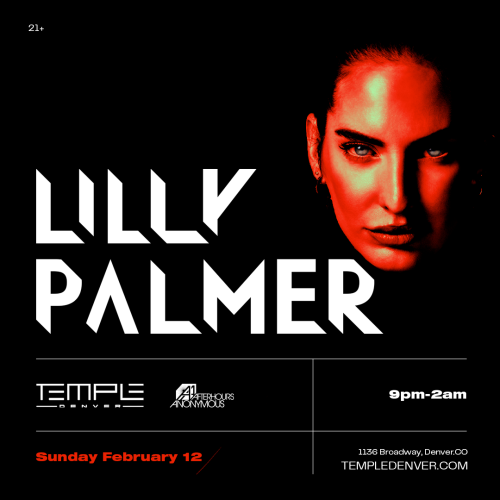 Sunday, Feb 12, 2023 @ 9:00pm
Lilly Palmer
Event Description
Lilly Palmer Presented by Temple Denver & Afterhours Anonymous
Lilly Palmer Presented by Temple Denver & Afterhours Anonymous
"Music is freedom.."
... freedom to express, process and transform your emotions while creating a bond with the audience. For Lilly there ́s no better way to initiate this bond, than with sending her audience on a musical journey with her DJ sets. It ́s as simple as that, electronic music just has been her passion ever since. Originally based in Zurich where Lilly spent a lot of time with the great and flourishing underground scene, her devotion for music got stronger and stronger which finally led her to the decision to fully dive into the realm of the underground in 2015! With powerful, impulsive tech and melancholic deep sounds, intriguing melodies and electrifying basslines, Lilly creates an unique and energetic vibe sending her audience straight to outta space on a trip where return tickets are not needed anymore. The massive feedback on her sets and the way she resonates with the audience is causing a crazy demand for this one of a kind and unique artist. Today she is living near to Amsterdam and experiences her dream becoming reality. As an international artist she is a regular guest in countries like the Netherlands, Germany, Austria, Hungary, Israel, Lebanon, Croatia, Switzerland, Belgium, Uk, Spain/Ibiza and India.
ABOUT TEMPLE
Temple Nightclub is a venue for artists, by artists, offering a nightlife experience that is unrivaled in the Mile High region. Temple Denver features awe-inspiring, fully immersive state-of-the-art lighting and visuals, to a thundering custom sound system, paired with world-class talent and theatrical production.
Temple is a 21+ nightclub experience. For VIP, email [email protected]