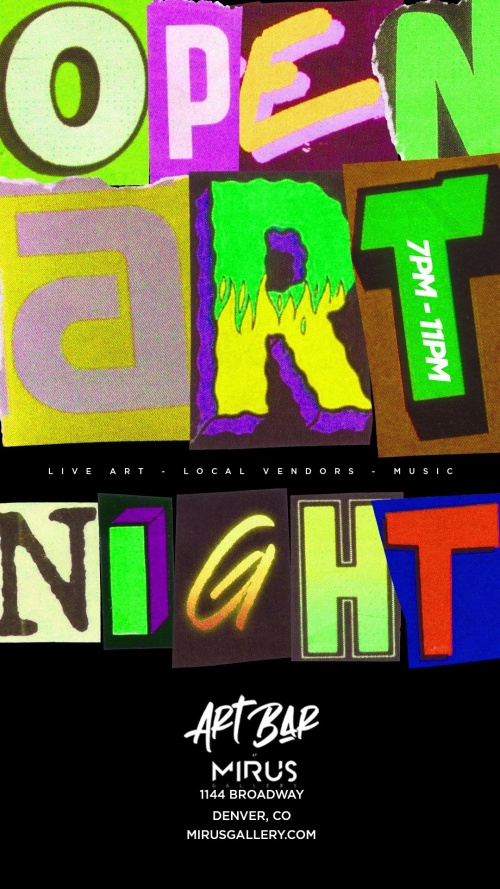 Thursday, Feb 16, 2023 @ 7:00pm
Open Art Night
Event Description
Come connect and collaborate with our local creative community at Open Art Night! This monthly event invites live painters, vendors, and creatives of all kind to come together. We invite you to network with the group, shop around, sip on cocktails and converse! Maybe you are a lover of art and don't know where to get started... or just want to hang out and soak up some creative energy.
Mirus Gallery wants to open its doors to Denver's Art Scene! Yes that means you! This is how we create community around art! Each month we will highlight a different style of music and a DJ will set the vibe with juicy beats and cocktails to keep the creativity flowing. This is a time to network, practice and play! You owe it to your art practice to join this growing community and do your part in showing the Denver scene what is most important to you! 
Everyone is encouraged to bring a small set up for painting or a sketch book, watercolors, tablet for digital work, jewelry kit, camera, flow toys, whatever creative expression calls to you, or just yourself! 
7pm doors , the gallery will remain open past 10pm for Temple Night Club Transform Music Show.
Free entry before 10pm, 21+
_______________________________________
HOW TO GET INVOLVED: 
*To apply to be an official live-painter or vendor Please Fill Out This Form.
*ONLY official vendors and painters are permitted to sell merchandise and art work at these events* The reason behind this is to keep the market unsaturated and provide the most exposure to official spots. These opportunities will be rotated out to give a fair chance to everyone. Painters and vendors keep 100% of profits.
*We can not supply lighting, easel, or tables of any kind - Set up begins at 6pm!*